Bob Barrett – Sun Weekly
Author Channels emotions of real life Cancer battle into a Bloody good read …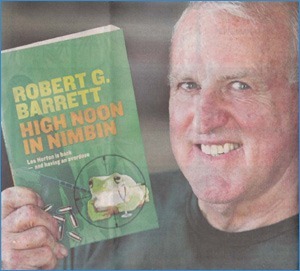 BOB Barrett rates his latest book High Noon in Nimbin as his bloodiest yet, a fact which he attributes to his fight against cancer while writing it.
"I became this grumpy old man with a walking stick and as the cancer developed and my condition worsened I let my emotions run loose and it shows in my book," the Terrigal author said.
Barrett says that Terrigal GP Dr Frank Vella saved his life and after two operations in a Sydney private hospital and a lot of pain and trauma, he is starting to come good.
'I ve thrown the walking stick away and I'm going to my place up at Port Stephens which borders a national park to relax for a while," he said.
High Noon in Nimbin which has Les Norton and his mate, the hitman Eddie Salita, back in action and off to Nimbin to help Eddie's friend open a bar.
"There's more blood spilt in this book than any of my previous 23 novels," said Barrett, now 60, who devoted his latest book to the rugby league players Andrew Johns and Wendell Sailor.
Not because he is a big fan but because '"these two men took a bit of a fall and got hammered unmercifully by the media only for being who they are".
One of his recent books, The Tesla Legacy, has sold more than 85,000 copies and is in reprint.
Apart from wanting to sell his new book (which is on sale at local book stores) Barrett wants to alert all men to have bowel scans at regular intervals, as recommended by their doctors.
"I think I'll now be around for a while to write a few more books but I was one of the lucky ones.
"So to all my male readers and males generally, go for a check-up. It may save your life," he said.