Robert G. Barrett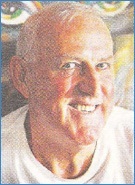 IT HASN'T been the best year for Robert G. Barrett but the writer is almost through his battle with bowel cancer, thanks to his doctor Frank Vella and an irrepressibly cheerful spirit. "There is always someone worse off than you:' he says. It is little surprise he would share the never-say-die attitude of his on-page alter-ego, Les Norton, the hero of more than two dozen best-sellers.
Barrett (above) has put pen to paper exclusively for The Daily Telegraph in a Norton short story, Amy Outhouse, that starts today in Inside Edition.
He also showed Best Weekend around his home suburb of Terrigal on the Central Coast. A butcher by trade and a Bondi boy by birth, Barrett moved to Terrigal in 1982 in search of a bit of peace and quiet and the chance to write and surf.
Chris Hook